From: Sean Rhea
Subject: Tufts Crit Race Report
Date: April 10, 2006 11:37:39 AM EDT
To: MIT Cycling Team

The Tufts Crit is my kind of course. An L-shape, with six corners and only a block long on all but one side, plus a nice, punchy hill just before the finish to take out the muscle-bound sprinters. Courses like these favor breakaways, as the constant accelerations out of the corners and onto the hill cause a slinky effect on a large pack not suffered by a small group off the front. It's a dream come true for me.
John Naegle and I are MIT's representatives in this race.
We warm up on the team trainers while Kristen pins us. Natalia and Eric are talking behind us when I hear my name. I ask what they're talking about, and Eric snidely replies, "Just you." I mention that it's okay with me, so long as they're talking about my ass, prompting Natalia to note, "You have the nicest ass I've ever seen!" I joke that her comment has triggered just the shot of testosterone I need to win the race.
Shortly thereafter, I ruin my mystique by falling off the trainer during one of the Zone 5 sections of Mat Glaser's crit warmup.
The course starts right before a turn onto the one downhill stretch, so we know we're going to have to treat this like a mountain bike race: sprint from the line to be the first into the singletrack, or in this case, the corner. Also, they've grouped us into Men's 4/5 and Women's 3/4, all on the line at once, so we're expecting nothing less than catastrophe.
We line up in the mechanics' area, claiming to need air for our tires as we push past the other riders. This ruse pays off, as we end up right in front when they call us to the line. Perfect position. Then karma catches up with us, as they give a call up to all of the race supporters: the Tufts and Quad Cycle teams. We are now solidly in the second row. John states the obvious: "Man, I really preferred our position before."
I shift a bit to get behind a Quad Cycles guy with Speedplays, figuring he'll clip in before the guy with Looks to his left. The whistle proves me right, as he takes off and I follow his wheel. Then the Looks guy slams into me as I shoot the hole between him and another rider, and I unclip to stay up, taking the first turn like a flying squirrel. I get clipped in by turn two, though, and spend the next six laps in 6th place, my favorite crit position.
We do a total of 30 laps with only one prime, so things are pretty calm at the front for the first half of the race. Unfortunately, John's start didn't go as well as mine, and he ended up around midpack and got slinkied around for a while before the officials pulled his whole group. Bummer.
With 15 laps to go, Ryan Kelly from UNH attacks and no one follows. He has monster calves, so I figure maybe he has a chance and bridge up to him. (It turns out this is his second race for the day, the first being the collegiate Men's Bs.) We sit 20 yards off the front for a lap or two until Peter Bradshaw, a breakmate of mine from the Wells Ave crit last weekend, bridges up as well. With three of us, we quickly push the gap up to 10 seconds, then 20, and finally 40 seconds by the last five laps. The announcers are quite pleased with my Cal jersey and mention it on every lap. This exposure motivates me.
Also motivating are the constant cries of "Nice Ass!" I keep hearing as we circle the course. One set is coming from Natalia at turn 4, continuing our joke from earlier, but the other comes from a yet-to-be-identified mystery fan at turn 1. Eventually, my breakmates start making fun of me for all the catcalls, and we all three bust out laughing when the anonymous fan yells, "You're the greatest lover I've ever had!" I went to bed last night still wondering who this mystery fan was, but I suspect it was John after he sent me this picture: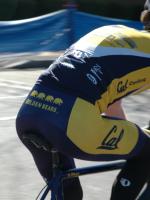 They finally call a prime with four laps to go, but none of us want to bother this close to the finish, so we decide to spit the $20 prize three ways.
Coming through with one lap to go, I'm in perfect position. Peter is in front, then Ryan, then me. I figure Peter will wear himself out in the headwind of the back stretch, Ryan will attack up the hill, and I'll come around him at the finish to win it. That plan lasts only long enough for Ryan to botch turn 2, letting a huge gap open up between himself and Peter. Peter notices immediately and takes off, and though Ryan tries like hell, he can't pull him back.
I attack up the hill after turn 5, dropping Ryan on the false flat after turn 6, and hammer like mad, but Peter has a solid 20 meters on me all the way to the finish. We roll through alone, each separated from the others by a wide gap. The image of Peter's raised arms as he crossed the line will motivate me for weeks to come, but I'm still happy for the 5 upgrade points my finish earned me. It takes 20 to upgrade to Cat 3, meaning I'm now 1/4 of the way there.
And now, the awards:
Most awesome bet of the weekend: Chris agrees to wear a Speedo at Easterns if Eric will buy him one.
Most amazingly intact family jewels of the weekend: Eric's, after an unknown force bent the nose of his saddle flush with his seatpost at some point during his crash.
Most misinterpreted quote of the weekend: "Sweet! You guys have cock sauce!" Natalia, on spying the spicy Asian red sause with a picture of a rooster on the bottle at the BBQ.
Sean
--
Give a man a fish and he will eat for a day. Teach him how
to fish, and he will sit in a boat and drink beer all day.
---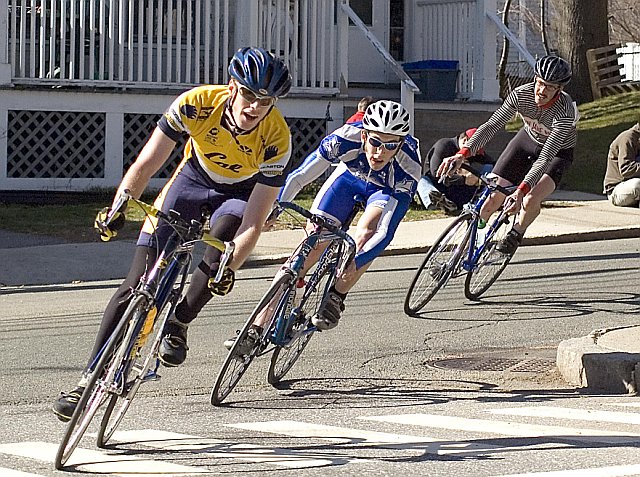 The break (left to right): Sean Rhea, Ryan Kelly, and Peter Bradshaw