From: Sean Rhea
Subject: Central Coast CX, Fort Ord Race Report
Date: October 3, 2006 2:05:14 PM PDT
To: ECV Cat 3/4 Team
After my move back to California prematurely ended my 2006 road season, I decided that I had no choice but to race cyclocross this fall. And if you're gonna go, you gotta go big. So this August I bought a Louis Garneau Steeple X frame and fork, a set of Spooky brakes, and a pair of FSA chainrings in 38x46, stripped my road bike bare, and built up a new cyclocross rig with the parts. When your only bike is a CX bike, I figured, you'll put in the training hours for fear of embarrassment if nothing else.
My goal for the season is to win the Velo Bella Surf City Series in the Men's B category. To that end, I spent the latter half of August and the first half of September putting in base miles, learning to run again, and practicing my CX skills. On September 19, I rode the Wildcat Canyon HCTT in 9:53, besting my previous record by almost a minute. The interval workouts I've done since then have only further cemented my confidence in my fitness.
I have far less confidence in my handling skills. Rather than find out what needs polishing during my first important race, then, I've decided to race the Central Coast Series race at Fort Ord this weekend. I'm particularly worried--rightly so, it turns out--about my inexperience with my new Crank Bros pedals.
The Fort Ord course is held at an abandoned Army base near Salinas, CA. Signs abound warning visitors not to stray off trail where they might encounter unexploded ordinance. Crashing seems even less fun than usual.
I've decided to race this one for the West Coast division of Essex County Velo, or "Essex County Villa" as the woman at registration tries to spell it. The unrecognized jersey gives me an air of mystique; confused looks abound as I warm up on my trainer. I can feel the Mental Edge tilting in my favor.
The race loop is around seven minutes long. It begins on a slightly uphill paved section. After a few hundred meters, it strays briefly offroad to traverse two barriers, then back onto the road, climbing past the finish line before turning hard to the left through four inch-deep sand. It then descends and curves right to cross a fallen tree, stretches out over a long and bumpy section, drops down two loose, fifteen foot-tall shoots, and takes a tight S-turn. It then climbs back up through a run-up with barriers, goes through another S-turn, another run-up, and a final S-turn through more four inch-deep sand before returning to the road section.
I line up about ten minutes early, mindful of the need to hit the dirt sections near the front. There are twenty-four of us lined up in the Men's B's; we're set to race for six laps. We'll also share the course with fifty-four Masters and single-speeders who will start shortly after us, providing further obstacles as we begin to lap them later in the race.
At the whistle, I take off hard, hitting the first set of barriers in third wheel, miss my pedals remounting the bike and fall to fifteenth or so, but hammer my way back into the top five by the turn onto the dirt. I concentrate only on holding position through the first lap, observing how the guys in front of me handle the trickier bits of the course.
By the time we reach the starting line again, I'm feeling really confident. As we go to cross the first set of barriers again, however, disaster strikes: my left pedal sticks as I go to unclip, and I slam into the first barrier and then the ground. Worse yet, I've thrown my chain, and I lose at least ten places getting everything back together. So much for the Mental Edge.
I'm now really pissed off, as I replaced my old Speedplay Frogs with these new pedals precisely in fear of just this sort of thing occurring. My anger fuels me as I hammer the hell out of the next lap, working my way back into the top five, only to crash AGAIN on the EXACT same barrier in the EXACT same way, AGAIN losing several places. WTF?
Now I'm beyond mad; I'm about to throw a fit. I hammer the next lap even harder, ignoring the stitch developing in my gut. Thankfully, I clean the barriers the next time, allowing me to relax a bit and concentrate only on pulling in the guys in front of me, noting in the process that first place is still in view occasionally when the course turns back on itself.
With a lap to go my confidence is back; my handling may be terrible, but on fitness I'm feeling great. As we pass the line, I scream at the bell ringer, "What place? What place?" He responds that he thinks I'm in fourth, but "fifth place is right behind you!" Yeah, but that means third is right in front of me, I think.
I proceed to pull third in, unclipping my inside foot as I come around him through a tight, loose right turn, then punching it up the following rise to cement my new position. I can see what I presume is second place fifty meters ahead; why settle for third?
As I come through the last sand pit, I throw a shoulder into a tubby Masters racer as he tries to crash us both out, returning to the pavement to see second place now only thirty meters up the road. I set my forearms on my bars, drop it into the big ring, and mash the pedals like there's a bear on my ass. I catch him halfway to the barriers and draft him to the dismount. We cross the barriers side by side, remount, and sprint. My head is down, my legs are burning, and I'm starting to scream when I notice that he's long gone. I smile and relax as I cross the line, trying to look good for the photographer before collapsing for lack of oxygen.
As it turns out, the bell ringer had it wrong; I was actually in fifth with a lap to go, meaning I finished in third, not second. Still, it's a podium spot in my first CX race, and despite crashing twice, I've finished only twenty-three seconds off first place. Now if I can just learn to get out of my pedals reliably...
Good luck next weekend to all you ECVers on the East Coast,
Sean
---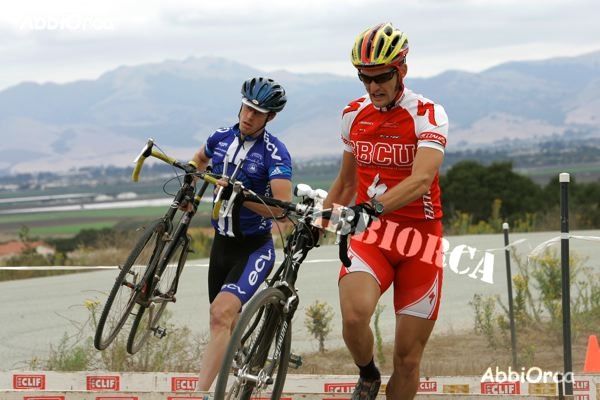 Sadly, the photographer didn't get any pictures of my crash this time, but here's one of me sporting the blue and white and going over the barriers cleanly.