2010 Memorial Day Crit
"Sometimes nothin' can be a real cool hand."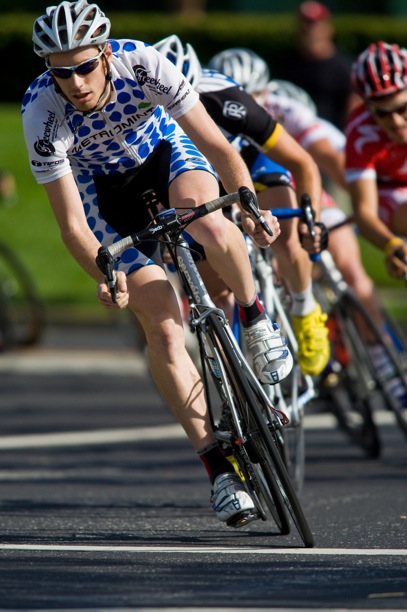 I haven't been feeling particularly on form lately. I managed to put down some good 1-minute power numbers two weeks ago, but my threshold power is down a bit, and my intervals have been feeling really flat. It got so bad that last week I decided I needed some time off. I rode a bit on this Wednesday, and Lucy and I gave the beginner track session a try on Saturday (it was awesome), but other than that, I've been taking it easy for a week.
As such, it was with pretty low expectations that I headed down to do the Memorial Day Crit today. It was a Pro/1/2/3 race, which was cool, as it meant I finally got to race with Kalani. Rob Dahl came down as well. Before the race, I told Kalani and Rob that my plan for the day was to take it really easy for the first half of the crit--to just sit out of the wind and hope nothing got away. My thinking was that after a week off, it would take a while to get back into the swing of things. I was also curious how I'd feel later in the race, how much of a difference being more rested would make.
It was pretty hot out, so I kept my warmup short, and I cooled off a bit under Keith Williams' tent while the official gave the race instructions, only riding out onto the course when he blew his whistle to start the race. I hopped onto the back of the field and prepared to sit in for a good 35-40 minutes.
I lasted about two laps. Someone went up the road, I was near the front, and I just couldn't help myself. I jumped, bridged, and worked a few rotations before we got reeled back in. I rested near the middle of the pack while Rob covered the next attack, then I moved back up and jumped again. Honestly, it hurt like hell, but it was more fun than sitting in. I spent most of the rest of the race like that--alternating between initiating or following attacks and sitting in the middle of the field recovering and feeling like I was going to puke.
About halfway through the race I got in a nice 6-man breakaway with Lucas Binder and Jared Barrilleaux. Lucas was on a mission, putting in long, hard pulls that put me into serious difficulty every time he hit the front. Jared seemed less motivated, which was a bummer, because the field had a hard time bringing us back, even without him pulling very hard. I think we lasted about 10 minutes before they caught us.
After that break I was pretty far into the red zone, enough so that I was worried I wouldn't be able to finish the race. I sat in a lot, and felt like puking a lot, and mainly concentrated on drinking and staying out of the wind. With two and a half laps to go Jared and Lucas went again, taking one other guy with them.
I know I have no sprint, so I went. Hard. I stood up, dropped my shoulders down almost to my bars, and hit it. Carmi Schulman went with me, but no one else caught his wheel. I dug, standing for a good 200 meters, then sat down and rode 100 more before wiggling my elbow for Carmi to pull through. He did, and I hopped his wheel, then pulled through again 10 seconds later.
I really thought we were going to make it. We closed within 20 meters of the three up the road, and I signaled for Carmi to pull again. He came through smoothly, not attacking at all, but I just couldn't catch his wheel. I put my head down and dug, cursing at my legs, but there just wasn't anything there. I watched the four of them ride away as we passed the line with one to go.
They got caught just after the final turn.
After the race I was bummed that I couldn't cover that lousy 20 meters of road, that I missed the final break, but honestly, I wouldn't have been able to pull once I got there, and we would have been caught all the same. And anyway, I'd come with low expectations and ended up getting an excellent workout, and that made me feel better.
As I rode back to the parking lot, two of the Specialized juniors were chatting about their race, one of them castigating the other for spending too much time chasing down breaks. The chaser replied, "Sitting in just isn't any fun." I'm totally writing that on my top tube.